Blackjack Strategy Chart
Some may say all gambling is basically luck, well it is not. Blackjack is one of a few casino games that given the proper tools and strategy you can almost eliminate the house edge. We have simulated thousands of hands of blackjack and through some basic math created the below strategy chart.
If one thing is constant in this world it is math. It doesn't change and it doesn't lie. Use the below Blackjack Strategy Chart to know when to hit, stand, double or split. The chart is pretty straight forward. Along the top of the chart is the Dealer's Up Card and you then sum your first two cards together to get your hand. Find the box which intersects the two and have the best odd's of winning the hand.
By following the below chart you can actually bring the house edge down to a mere 0.4%. No other casino game can get you that close to being evenly matched with house.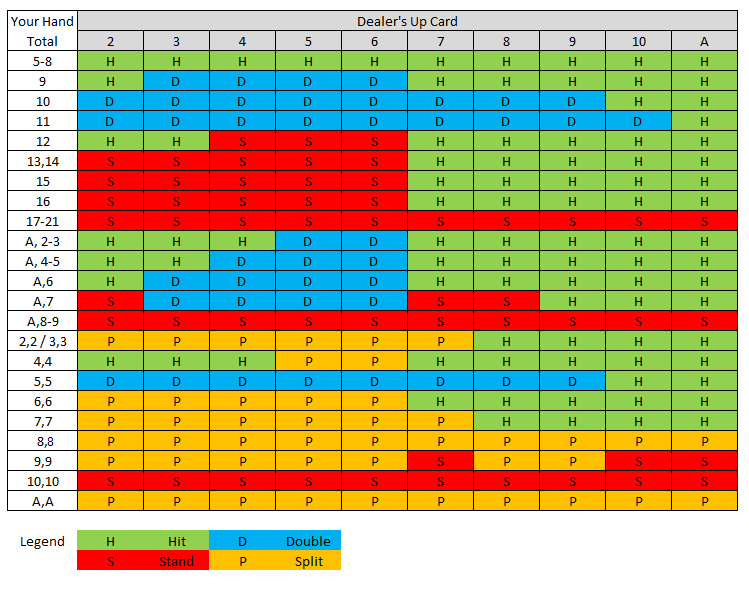 Click here for a printable version of this chart
Using the Blackjack Strategy Chart
Obviously when playing USA online Blackjack you have another window open on your computer to reference the chart of having it laying right in front of you. At land based casinos, while they do not like you using a chart like this, if you are discrete about it they won't bother you. Above you can see we have a smaller printable version of the chart that you can easily place in your wallet or have lying on your leg at the casino.
If you want to play blackjack online check out listing of the best USA friendly Blackjack online casinos. Be sure to see our USA Blackjack reviews and use our link to sign up to be guaranteed the best Blackjack bonuses available. If you want to play against Live Dealers check out BetOnline. They are one of only two USA casinos that offer Live Dealer Blackjack and also offer cash back blackjack bonuses.
Another blackjack strategy that helps to win some serious money is using a progressive betting strategy. Bet progressively when your on a winning streak using this chart.