Progressive Betting Blackjack Strategy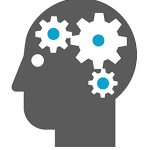 Unless you are playing Blackjack for pure entertainment purposes, you should have some type of strategy to follow. When we are playing USA online blackjack we use a progressive betting system while following the rules of our blackjack strategy chart. By using the chart we find ourselves on some really long winning streaks and shorter losing streaks. Then by using a progressive betting strategy we maximize our profits while limiting our risks.
What is a Progressive Betting Strategy?
A progressive betting strategy is simply increasing your bet amount in some type of order while playing blackjack. Instead of betting the same amount every hand, as you find yourself on a winning streak you bet more and collect more as you win. Some type of progressive betting strategy should always be used. If you bet the same amount every hand you will lose in the long term. Every casino game has odds built into he game to make sure the casino wins after a large number of hands are played. By betting progressively you increase your chances of winning by taking advantage of long winning streaks and betting more than your standard bet.
You do need to use your best judgment when employing a progressive betting strategy. You must be able to determine when the cards seem to coming out in your favor and when they are not. If a dealer seems to be on a hot streak, you lower your bet. When you realize you are winning more hands than you are losing you raise your bet and employ the progressive betting strategy.
Blackjack Progressive Betting Example
Below is an example of the type of progressive betting strategy we use when playing Blackjack and Baccarat. Say you are betting $25 a hand to start. Below is what your bets should like like if you find yourself on a winning streak.
Hand 1 - $25
Hand 2 - $25
Hand 3 - $50
Hand 4 - $50
Hand 5 - $100
Hand 6 - $100
Hand 7 - $200
Hand 8 - $200
Hand 9 - $400

This example is doubling your bet every other hand as long as you continue to win. By doing so you "let your bet ride" every other hand and take your profits every other hand. In Blackjack it is not uncommon to find yourself on a 10 - 15 hand winning streak and winning 5 or 6 hands in a row is very common.
By using the above example you start by betting your normal $25 and win. You then bet $25 again the next hand. If you win that hand double your bet to $50 (letting it ride). On the third hand you are betting with the casinos money. You already won $25 on the first hand and you won another $25 on the second hand so the $50 is won money. Win hand 3 and you just won $50 risking zero of your money! Continue this type of betting and with every other hand you pocket your chips. As your winning streak becomes longer and longer the chips really start to add up.
In the above example imagine you win the first 9 hands and lose the 10th. On hand 9 you have won $1150 by using the progressive betting system. Betting your regular $25 a hand you would have won only $225 - that is a $925 difference!
The best part of using a progressive betting system is that after you win your first hand you are betting with the casinos money. As your win streak becomes longer and longer you can really see the chips add up. Even with winning hand 3 you have $25 more than if you had bet $25 every hand. In using this strategy be sure to follow the blackjack strategy chart just not for when to hit and stand but also for when to double and split. When playing blackjack, doubling and splitting is where you will win the majority of your money. Just because you have a large bet up, do not hesitate or "be scared" to double or split. Especially when the opportunity to double arises, following the strategy chart the odds are in your favor and in the long term this is one of the few opportunities when in the long term you will win money.
A reverse progressive betting strategy should be avoided at all costs. Do not double your bet if you lose. Even if you lose 3 hands in a row do not increase your bet. Keep calm and continue to wager your normal bet. Even after losing 4 in row you may think "I have to win the next one" - right? If you don't win then your down twice as much and need to having a longer winning streak to get back to break even. Using a reverse progressive betting strategy you can go broke in no time at all!
Best Casinos to use a Progressive Betting Strategy
When you are using a progressive betting strategy be sure to use an online casino that meets your betting limits. If you play at a low limit casino you are limiting the amount you can win. If a casino only has a $100 per hand limit you will find yourself betting table maximum to early in your winning streak. In the above example you would be betting table max after just 5 hands. The goal of progressive betting is to go on long winning streaks and getting your per hand bets as high as possible.
When using a blackjack progressive betting strategy you want to find High Limit Blackjack online casinos. The best online casinos for this are the live dealer casinos where you can bet up to $10,000 per hand at BetOnline and $5000 per hand at the Drake and 5Dimes Casinos for live dealer blackjack. Use a progressive betting at these live casinos and watch your chip stack grow over time. If you prefer to play just standard online blackjack, the Lucky Red Casino is a great choice. Bet as much as $1,000 per hand for blackjack and also have your limits raised upon request.
CASINO
WHAT WE LIKE
BONUS
PLAY NOW

USA Players Welcome
Live Dealer Blackjack
USA Credit Cards Work

USA Blackjack Casino
Live Dealer Blackjack
10% Cash Back on Losses

USA Friendly Casino
Ongoing Reload Bonuses
In Business Since 2009

USA Players Accepted
Live Dealer Blackjack
Popular RTG Software

USA Online Casino
Play with a Live Dealer
USA Credit Cards Work
Of note, many online casinos will start your betting limits at ranges from $250 - $500 per hand. As you continue to play at that casino they will review your account periodically and raise your limits for all games including blackjack. Lucky Red for example has blackjack limits as high as $10,000 per hand, but these super high limits are only granted after you have a good history of deposits and/or withdraws. When just starting out you can contact the support staff and request higher limits. Generally limits of $1000 per hand will be granted if requested.