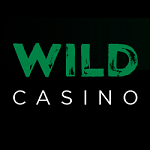 Founded in 2018, Wild Casino is a new name in the online casino industry with veteran management whom has had experience in online gaming reaching back to 1991. Over the years, Wild Casino's owner has refined its ability to provide the best online casino experience possible for its customers, and declare their sole source of motivation for Wild Casino is "delivering the most exciting and dynamic gaming experiences possible in the industry." For this reason, anyone who is a fan of online casinos can find something at the Wild Casino they can enjoy.
The Wild Casino has a vast selection of online casino games to explore including, but not limited to, Blackjack, Roulette, Baccarat, Craps and more as well as many of the hottest online slots and video poker machines available to the market. Beyond their expansive library of online casino games, Wild Casino also just opened their live dealer casino. When players sit at Wild Casino's live casino, they are greeted by a live dealer accompanied by incredible graphics to truly immerse the player in the experience.
On top of this massive library to sift through, Wild Casino runs constant promotions for their players. For starters, new customers can claim up to a $5,000 welcome bonus dispersed over three different deposit bonuses. If you play your cards right, you can use this welcome bonus to double your first deposits between $20 and $1000 giving you the best possible chance to win. New players can also use the code TABLE100 to claim 100% table games bonus up to $1,000, providing even more opportunities to capitalize on your first round with Wild Casino. Beyond the new customer bonuses, Wild Casino also runs continuous promotions for returning players such as a 100% reload bonus and Free Spin Thursdays, but the most interesting promotion is The Hot Streak. Promoted as "a whole new way to make extra cash at Wild Casino," The Hot Streak rewards players for returning daily. With this promotion, players earn greater and greater bonuses for every day they wager more than $1,000, capping out at a $1,000 cash prize for anyone who wagers over $1,000 on 25+ different days in a month.
All in all, Wild Casino has much to offer and is just adding more every day. Whether it's exploring their expansive library of online casino games, sitting down at one of their live dealer casino tables (including live dealer blackjack), or claiming one of their generous promotions, any casino fan will be left more than satisfied with their experience at the Wild Casino.
For more information and to open an account see our complete Wild Casino review and then use any link to visit the casino and sign up. By using our link you will be eligible for the best bonus available.